Tolkien and Fleming-and LePore and Davis-Ride Again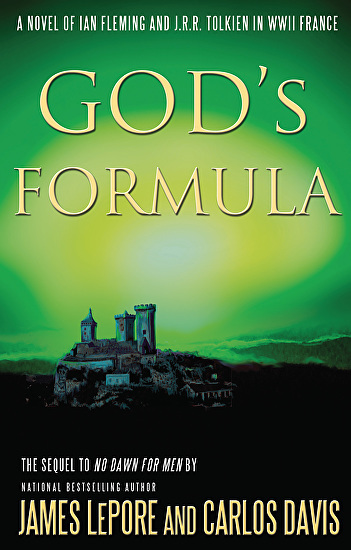 Cover Copy:
It is 1939. The scourge that is Nazi Germany is trampling Europe as its scientists vie to deliver ever-increasing destructive power. Now physicist Walter Friedeman—a friend of Albert Einstein's since childhood—has found a formula to enrich uranium in three months rather than the previously expected five years. Such a formula could deliver Germany the first atomic arsenal. But Friedeman does not believe in the Nazi cause. He wants the formula in the hands of America, but getting it to them himself will be nearly impossible. He sets into motion a plan to use his teenaged son, a Hitler Youth, to unwittingly do the job, using a message Friedeman has encoded in the Elvish language created by J.R.R. Tolkien in his novel The Hobbit.
What follows is a quest across continents as Einstein, Tolkien and MI-6 officer Ian Fleming work together to find Friedeman's son, decode the message and wrest control of the nuclear future before Hitler can steal it for himself.
Author's Note:
The Holocaust, D-Day, Hiroshima, the Cold War, nuclear armament, the fall of the Soviet Union: it can be argued that all of these momentous events had their genesis on September 1, 1939, when Nazi Germany invaded Poland and triggered the start of World War II. From that late summer day in 1939 until December 7, 1941—27 terrifying months—by hanging on like the bulldog that it was, England saved the world from domination by Adolf Hitler and the madmen who had sold their souls to follow him. God's Formula is a tribute to England and to two of its greatest sons.
Buy God's Formula at Amazon, and at Barnes&Noble.