A New Series Begins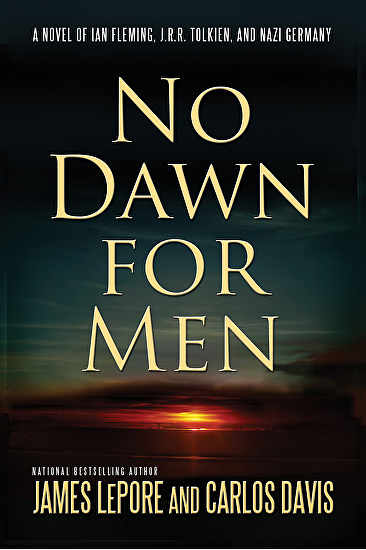 Cover Copy:
In 1938, Nazi Germany prepares to extend its reach far beyond its borders. The key to domination lies in a secret that would make their army not only unbeatable, but un-killable. MI-6, knowing that something potentially devastating is developing, recruits scholar and novelist John Ronald Reuel Tolkien to travel to Germany to find out what this might be, using the German popularity of his children's novel THE HOBBIT as cover. Joining him there is MI-6 agent Ian Fleming, still years away from his own writing career but posing as a Reuters journalist. Together, Tolkien and Fleming will get to the heart of the secret and they will face a fury greater than even their prodigious imaginations considered possible.
Author's Note:
As it is with all historical novels, No Dawn For Men is a mix of the real and the fictional. J.R.R. Tolkien was in Berlin in 1938 to talk to a German publishing company about publishing The Hobbit in Germany. The book actually was believed by many ardent Nazis to support their ideology. He turned them down when they asked him to sign an oath saying he was not a Jew. He wrote them a famous letter which you can see here. This letter, when we first came across it, was one of the inspirations for the novel.
Ian Fleming was a Reuters correspondent in the thirties covering events in pre-war Europe. There is no record of his being in Berlin in 1938 but there is a consensus among his biographers that he was doing more than reporting, likely doing political and military assessments for MI-6. Tolkien was actually in the Somme offensive in WWI as a signalman, and did lose two very close friends there. Fleming's dad, Valentine, was also in France in WWI. The meeting between the two described in No Dawn's prologue is fictional. The novel's core, an adventure involving a powerful but very dangerous artifact, is wholly fictional, but gave Carlos and me a chance to have Tolkien and Fleming experience things that would one day end up in their work. For example, there is a scene at Gestapo headquarters where Fleming is nearly tortured. His fans will not miss its analog in Casino Real. Other such seminal incidents are more subtle. All are organic to the novel. We believed as we wrote that both Tolkien and Fleming fans would have fun as they came across and recognized these inspiring moments, and that all readers, fans or not of these two great men, would be delighted by the sheer adventure of No Dawn For Men.
Buy No Dawn For Men at Amazon, and at Barnes&Noble.